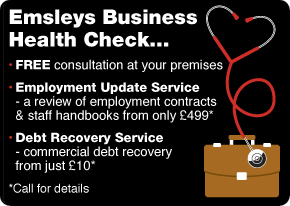 Call now on the Emsleys Commercial Helpline:
0844 939 0066
In an increasingly competitive and commercially aware world our Leeds based Commercial Solicitors offer practical, cost effective advice and support to numerous local and regional companies, owner managed businesses and individuals on all aspects of commercial property and business law.
Whether you are involved in the purchase, sale, development, financing or letting of retail, office, industrial or licensed premises or in the sale and purchase of a business, our Leeds based commercial law team offer you the best expert advice and support you'll need.
Landlord and Tenant
Comprehensive services for landlord and tenant clients. Advising landlords with multi-let industrial estates and large office buildings, assisting new business ventures on the preparation/negotiation of their first shop/office/industrial premises lease.
Advice for landlords and tenants on all leasehold management issues:
Assignments of existing leases, lease renewals, statutory regulation, rent review and dilapidations.
Commercial conveyancing
We will support you in all legal aspects of buying or selling investment property whether residential buy-to-let properties, acquisition of business premises for occupation or purchase of commercial property via a pension fund.
Sales and purchases of retail, industrial, office and licensed premises
Investment portfolios (residential and commercial)
SIPPs
Development
We have extensive experience advising both residential and commercial property developers. We work as part of the developer's team of trusted professional advisors throughout the site acquisition, planning, assembly and disposal processes providing a truly integrated service with the minimum of fuss.
Site purchase and assembly, including conditional contracts, option and exclusivity agreements

Infrastructure and Section 106 agreements

Freehold and leasehold sales
Collateral warranties
Secured lending/funding
We have well established, respected relationships with most traditional commercial lenders. We pride ourselves on our commercial approach whilst recognising the vital importance to our lender clients of the quality of the security offered. Our work includes residential and commercial investment portfolios, development funding and refinancing.
Business sales/purchases
Our business clients are based in and around West Yorkshire: owner managed businesses, partnerships, limited liability partnerships, limited companies or sole traders involved in the acquisition or disposal of the business and its premises.

We advise many clients on the sale and purchase of the assets of a business, share sales/purchases, company formations and shareholders' agreements.
Asset sale agreements
Company formations
Shareholder agreements
Share sales
Commercial dispute resolution
Experience on the range of procedures available to clients in recovering bad debts including drafting and issuing proceedings to obtain judgment. We offer substantial expertise in commercial contract and construction disputes and as part of our fully integrated service to landlords and tenants we provide advice on rent arrears claims, lease renewal proceedings and dilapidation claims.
Contract and construction disputes
Landlord & tenant rent arrears claims, lease renewal proceedings
Debt recovery
Employment law
It is essential that businesses of all sizes and structures can access immediate and practical advice on employment law - this area of law is developing quickly, with employee rights continually being created by both Europe and the UK government.

We offer candid, realistic, clear advice taking into account and balancing the rights of employees with the need for employers to make business decisions to run their businesses more efficiently.
Disciplinary proceedings
Dismissal
Redundancy
Compromise agreements
Questions & Answers
Q: I am buying my first business and leasing the premises and I am concerned about the legal costs involved?
A: We recognise that cost is an important factor for all of our commercial clients. At the outset we provide an estimate of the likely legal costs involved and in many cases we are able to offer you a fixed fee arrangement which is competitive with other local firms and in many cases less expensive than the city centre commercial firms.
We also clearly set out any other expenses eg: Stamp Duty Land Tax, searches and Land Registry fees. We keep a close eye on costs and will keep you fully informed throughout.
Q: I am concerned about taking a lease of my business premises. How can you reassure me?
A: Leases can appear to be long and complicated documents which we recognise can be daunting for clients; particularly if you have not taken premises on lease before. As experts, we deal with such documents on a daily basis and will summarise the key points for you in plain English and clearly explain any points that require clarification. We negotiate all aspects of the lease with the landlords and their solicitors and will liaise with you throughout the process.
We will ensure that before you are committed to the lease you are entirely happy with every aspect and fully understand your obligations and commitments.
Q: How will you ensure that the purchase of my business premises runs smoothly?
A: Our aim is to make the investment in your business premises as straightforward as possible. We will make sure that your instructions are efficiently followed, that the contract accurately reflects the agreement you have reached with the seller, that you obtain a good and marketable title to the property, the legal title is correctly transferred and registered to you and that you understand your rights and liabilities.
Q: As a developer, how can you help me?
A: We act for a wide range of developer clients from individuals building one or two houses to regional house builders and commercial developers involved in complex land acquisitions, section 106 and infrastructure agreements, site assembly and freehold or leasehold sales and lettings. We like to work as part of the developer's team of trusted professional advisors and will liaise with all members of the team from the initial appraisal and agreement of heads of terms, to the acquisition of the site, the planning process through to securing development funding and latterly advising on the legal aspects of selling or letting the plots.
Q: I'm considering investing in commercial property through my pension fund - can you help?
A: Absolutely. We have considerable experience in advising private clients on property acquisitions through their pension schemes. We understand the issues peculiar to such transactions and the vital importance to you for your retirement planning. We work closely with the pension provider to ensure an efficient and straight forward purchase of the property and its transfer into your pension fund.
Q: Why would one of your clients recommend your services to us?
A: All projects are handled by experienced experts and our clients value the personal service provided. Our advice is provided clearly and delivered in an approachable, professional and timely manner with the minimum of fuss. This enables our commercial clients to do what they do best - run their business! Due to our solicitors' commercial backgrounds and levels of experience we are in many ways unique for a firm of our size: we are able to provide specialist technical advice on a par with city centre firms but at a more realistic cost. Our Lexcel accreditation confirms our commitment to excellence in the service we deliver. We're accessible to our clients - only a 10 minute drive from Leeds City Centre and positioned just off junction 44 of the M1 with ample free parking. We also have the flexibility to meet with clients at any one of our branches in and around Leeds.