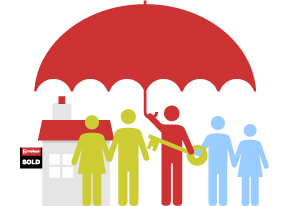 Call now on the Emsleys Conveyancing Helpline:
0844 939 0069
Moving house is one of the most important decisions you will ever have to make and as well as being an exciting time it can also be a stressful, daunting prospect too.
Our Leeds based conveyancing team aim to make the selling or buying of your home as smooth as possible and we've developed a simple, convenient solution - we have our own estate agency and legal teams under one roof.
This helps us to manage the complete sale process; from a free professional market valuation service, to the sales negotiation process and right through to the legal completion of the transaction.
How we can help
We're justifiably proud of our high standard of service and client care. We've been established for many years and a number of our dedicated team have spent much of their careers with us.
It's our enviable reputation for a personal and professional legal service in the area of conveyancing that sees many of our clients return
Questions & Answers
Q: I'm nervous about the prospect of moving house and sorting everything out. How can you put my mind at ease?
A: Buying or selling a house is probably the biggest transaction you will ever make. Our experienced and highly-trained lawyers work hard to ensure that your move runs smoothly and is processed as quickly as possible. To do this we work on your behalf every step of the way.
We personally guide you through the conveyancing process by explaining any legal jargon and ensuring that your best interests are always protected.
Q: What can you do to make buying a property less stressful for me?
A: Our aim is to make buying a property as easy for you as possible and we're happy to handle as much of the process as you need us to. We'll ensure that the agreement you reach with the seller is accurately put into written form, that you buy a good and marketable title to the property, that the title is correctly transferred and registered to you, and that you know what you're buying and what rights/liabilities you may have.
We liaise closely with you throughout the transfer process to ensure you're kept informed on progress, and that an acceptable completion date is agreed. By taking care of all legal, organisational and administrative issues - such as checking the accuracy of the Contract of Sale - we help ensure a smooth and quick process.
Q: What other checks will you carry out on my behalf?
A: We make searches with the local authority and others on your behalf before the contract is signed. This helps ensure there are no matters affecting the property which might change your decision to buy, or alter the price you're prepared to pay. We also check the title to the property and make sure you know what they say before you commit yourself.
Q: Will you deal with the lawyers?
A: Once you've signed the Contract of Sale and are in a position to legally commit to purchasing the property we liaise with the lawyers acting for the seller to agree on exchange of contract and completion dates. Once contracts are exchanged we prepare the transfer and make the final arrangements for completion.
We then see the whole process through until you receive the keys to your new home. Even then we will deal with any Stamp Duty payable, as well as handling the registration of your property ownership with the Land Registry.
Q - How can you help me sell a property?
A - When selling a property we'll work with you to define exactly what to include in the selling price (house, land, fixtures, fittings, furniture, garden contents, etc). We'll obtain deeds and any relevant information from you and then draw up the Contract of Sale. We'll then send this to the buyer's solicitor, handle the buyer's queries on your behalf and liaise with the buyer's solicitor over exchange of contracts and completion.
We'll also pay off any mortgages outstanding and ensure you get the balance.
By liaising closely with you throughout the transfer process we'll ensure you're kept informed on progress, and that a suitable completion date is agreed. By taking care of all the legal, organisational and administrative work we ensure a smooth and quick process, and a stress-free time for you.
Q - If I'm selling a property will you help with the financial side of things?
A: Absolutely, in fact we're happy to act as the 'Cashier'' for the whole transaction and handle all the financial work for you. If you're selling we'll make sure that everything runs smoothly, such as liaising with the bank to settle your remaining mortgage and paying you the remaining balance. If you're both buying and selling, there may be more than one mortgage to pay off and another to arrange.
We'll still organise the entire transaction, liaising between the various lenders and solicitors involved. It can be quite a complicated affair, but it's a role we're used to.
Q: How are you able to guarantee a speedy and efficient conveyancing service?
A: We use state-of-the-art computer and case management systems, supported by our inhouse IT team, to provide our staff with the essential back-up they need to deal with your property transfer smoothly and with the minimum of hassle.
Conveyancing Quote Request
If you would like a quote for the legal work involved in buying and/or selling a property, please complete the form below. Once submitted, we will contact you with a quote via your preferred method of contact within 24 hours.