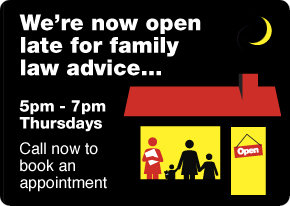 Call now on the Emsleys Family Law Helpline:
0844 939 0066
Understanding, approachable
Our Leeds based team is renowned for providing expert legal services in all aspects of family law with a sympathetic, understanding approach. Our services listed opposite (click on the service you require) also include a trained collaborative family lawyer and support throughout the mediation process if you feel able to meet with your former partner and discuss matters directly with them.
How we can help
Whatever your situation, we're committed to providing you with the best service when you need it most. Having passed regular checks by the Legal Services Commission we're proud to have been awarded a quality mark to carry out family work - and you can be confident of receiving expert legal service of the highest standard with our team being members of:

We are committed to a conciliatory approach to marital and family disputes wherever possible, however we're aware that this isn't always the best way forward so we can be 'tough' on your behalf when needed. We'll help you move forward with your life by offering the best legal advice and explaining fully the options available to you and their implications. We'll always advise and support you in making the best choices for you and your family and put those decisions into practice. If at any time decisions are taken out of your hands, we'll represent you to achieve the best possible result.
And it goes without saying that we'll do everything we can should you require immediate advice - your call being dealt with on the same day wherever possible.
Questions & Answers
Q: How much will the advice cost?
A: We offer advice on any family law issue you may have. First we'll discuss your situation and provide an estimate of the likely cost of handling your case.
We're one of the few firms in Leeds who provide free or subsidised legal help, and we can advise whether you are entitled to help with legal costs via public funding (legal aid).
If you're not eligible for help we can arrange for you to pay by regular instalments.
If you simply want basic legal guidance, a member of our team can offer you a no obligation half hour interview to help you decide what to do next, how to approach the situation, and what other sources of help or information may be available to you.