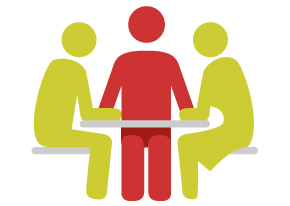 Call now on the Emsleys Family Law Helpline:
0844 939 0066
Communication is good..
In the case of a separation it's possible for you to discuss child and financial arrangements either with your former partner direct, or with the assistance of mediators.
Family mediation can be an effective way of resolving practical issues that have to be considered when a marriage or relationship breaks down. It can help you to communicate with your ex partner about the things that matter in a mature, calm way at a time when you may both be very upset and angry.
How we can help
This type of discussion can seem quite daunting, so we can refer you to trained mediators who will assist you throughout the mediation process and our Leeds based Family Law team can offer legal advice in support of this to ensure you have a full understanding of your legal position before you enter into any negotiations or reach a final agreement.
Questions & Answers
Q: Do I have to go to mediation?
A: No, it's a voluntary process. It is worth considering though as it may assist you and your former partner in resolving a number of issues and this might ultimately save money and avoid delays.
Q: Is mediation free?
A: No, there is a charge, although different organisations have different rates. The mediation service will explain their charges if you contact them.
Q: If I attend mediation does this mean I don't need a solicitor?
A: Family mediation does not replace a solicitor. We recommend that you take advice before and after most meetings so that you can attend the meeting with confidence, and know your legal rights and what a court might do in your circumstances. You can then discuss matters with your former partner without being disadvantaged and in the full knowledge of your legal position.
Q: What happens if an agreement reached in mediation breaks down?
A: You can either return to mediation for further discussions, or if you feel this will not help, we can advise you as to what other options are available to resolve the issue in question